Christmas Championship 2021 - Christmas Recollection!
2 years ago, 21-12-2021
Here are the Final results of this event. Thank you to everyone who decided to join us, hope you all had fun in this very special season!
See you next year! :)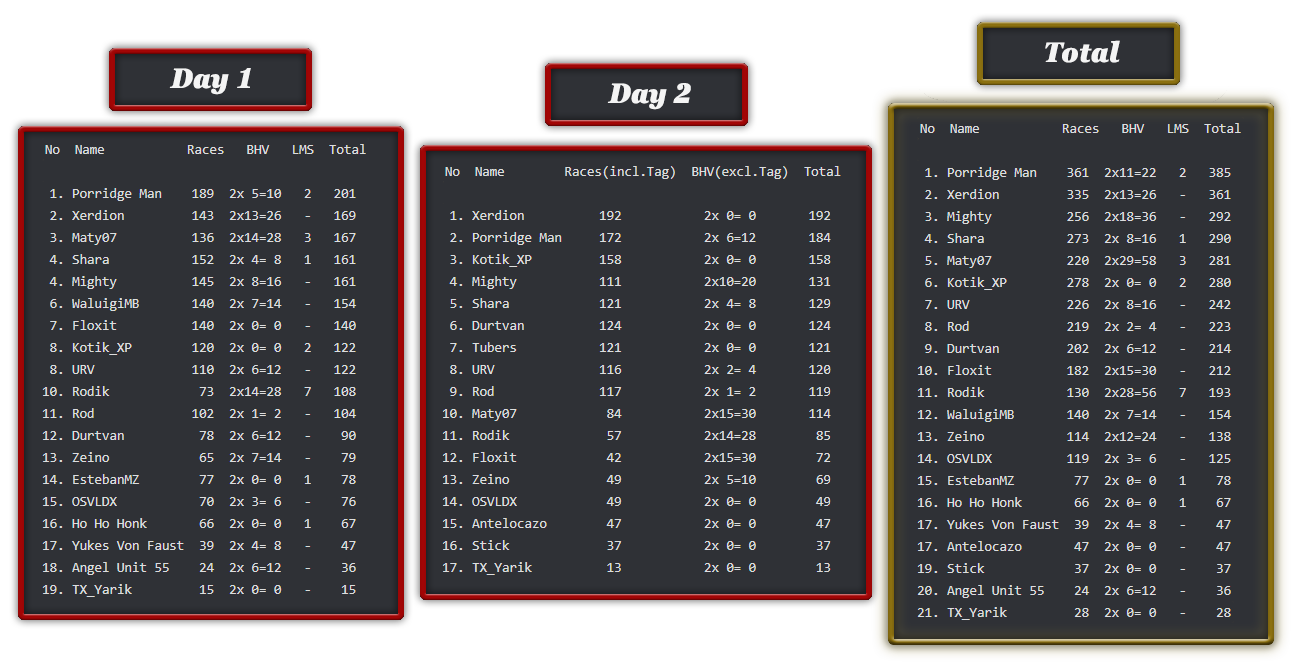 ---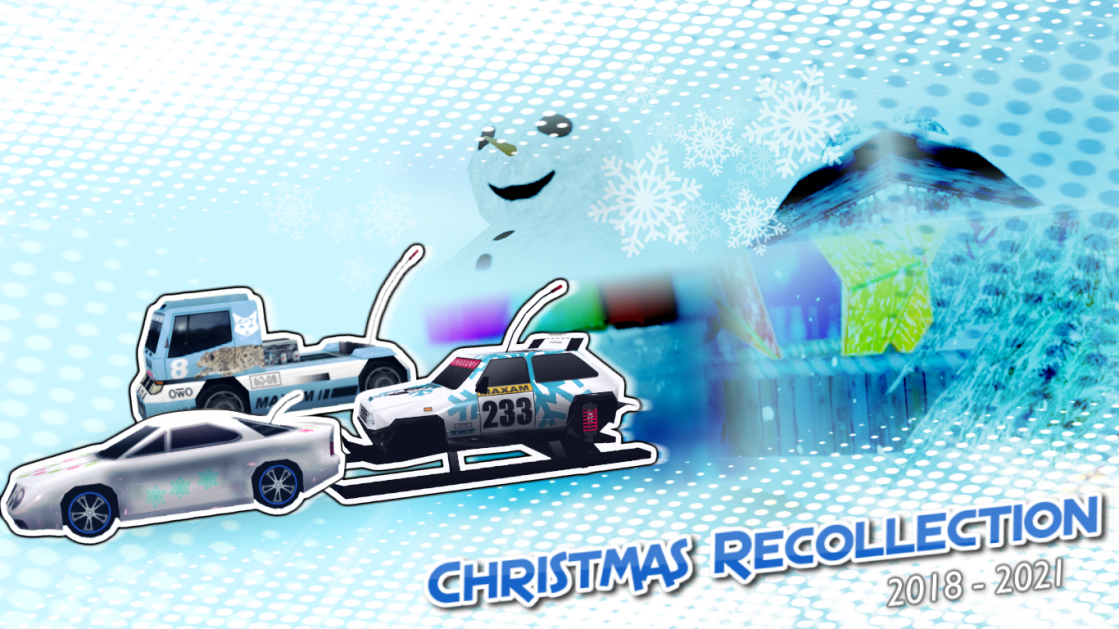 Welcome to Christmas Recollection, where we reminisce our past events and race them down on a memory lane!
Different from previous Carnivals, there is no car creation involved. Instead, we will race with cars made on previous Christmas Carnival events.
In the past, people have made their own creative reinditions for each year:
the nimble Dukhar;
the heavy BHV 1;
the quick XMAS 2020.
Now this is a chance for us to race these cars again!
The tracks we are racing on will be a mix of old and new. We will drive through memories kindled in the past, alongside fresh additions to remember fondly.
You can join the discussion on Discord.
---
All-in-One Pack

Warning: It is highly recommended that you install the content packs on a fresh game installation or by using packs feature of RVGL Launcher, as some files replace existing assets.
You just need to join the lobby as it opens at the designated time, to participate in the event. Check #lobbies channel in the Re-Volt server around the time the session will be held.
While it is not mandatory to sign-up to join, you can still reserve a spot for the event! To reserve a spot, contact #shara--#7705 with your preferred ingame name and which days you'd like to enter. You can reserve a spot for one or both days. Players who reserved a spot will be prioritized when joining the lobby, and will be able to join earlier than others.
The only requirement is to obtain the exclusive packages once they're released. If you'd like to keep up to date with any new information, join us on Discord, and make sure to get the Tourneys role from the #roles channel.
Do not alter any of the cars or tracks from the pack.
You may only use cars, made in previous Christmas events (see list below).
You are allowed to change cars between races.
Only the creations below are allowed to be used. It is not allowed to use the base car itself (Dukhar, BHV 1, XMAS 2020).
The races use the usual points system of the results parser from online.re-volt.io/sessions
Battle Tag uses the same scoring system as races.
2 extra points are given for finishing races using BHV 1, to balance its slower pace (this does not apply in Battle Tag and LMS).
LMS has 5 rounds, which means:

for each arena, the winner gets 3 points, runner-up gets 1 point.
if there is no clear winner (falling at the same time and such), involved parties will get 1 point each instead.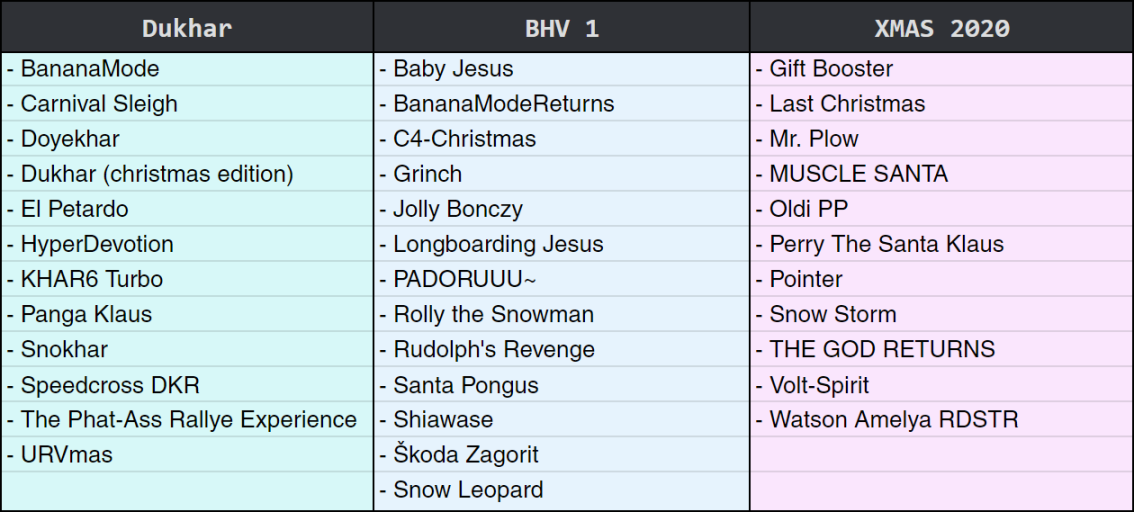 This event will be held on December 26-27 at 16:00 UTC.
Day 1 - Memories of the Past:
Tetris Festival
Penny Racers - Caves
Snowland 1
No Pickups: Aspenside
SBX Alpine
Cryo-Volt 3
Chilled to the Bone
Sumo/LMS: Toshinden Mona, (To)ShootingStar, Transformers, Lego 4, Chinatown
(...Get a rest, take a 20min break...)
Christmas Crib 2011
Christmas Snow Globe
Winter Park
Simulation: Winter Madness
Toy World - Winter
Snowy River
Candy Cane Land
Candyland
Day 2 - Fresh New Remembrance:
Lunar Lights
Cryo Volt
Snow Cove
Endurance: Hyperborean Harmony
Junkyard 2
Subway
Game Room 2
Battle Tag: Christmas Globe Battle
(...Get a rest, take a 20min break...)
Mountain Snow Globe
Paper Town 1
Toy World 3
Sprint: Medium Town
Cold-Cross
Siberia
Custom Toys
Cloud Nine