Halloween Carnival 2019
3 years ago, 02-10-2019
It's that time of the year again! The days are getting shorter, everyone is suffering from post-summer weather whiplash and skeleton memes are like, everywhere. Good lord, you people like your skeletons. Anyway, that's not the only thing October has to offer, since the Halloween Carnival will be making its return! On October 26-27 at 18:00 UTC, we will once again be racing the spookiest tracks Re-Volt has to offer, in decked-out cars made specifically for the occasion.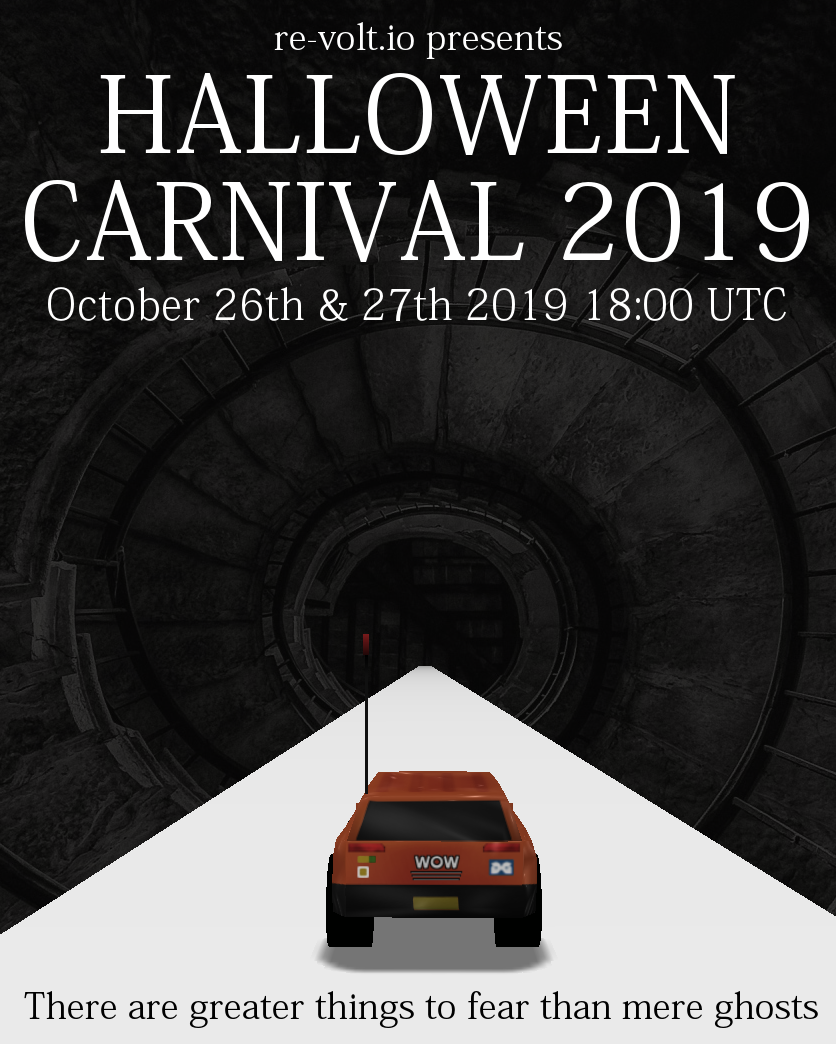 Poster courtesy of Alex. Thanks!

Here's a rundown for those that didn't attend last year, or just forgot the details past "spooky races": The event will be separated into two categories: online races and a beauty contest. We will be using Frollin as our base car, which participants can repaint or remodel to 1. have a personal car for the races and 2. have a shot at winning the beauty contest. Your creation should have at least some connection to Halloween, of course.
We will be racing with pick-ups enabled on Arcade mode. There are no prizes to win, other than the satisfaction of crushing your opponents in competition. For more details, join us on Discord!
Do not alter any of the cars or tracks: -autokick will be enabled, and you might be unable to participate.
Do not break the game or make it unplayable for others. If in doubt, ask. Except if you're asking whether you can build another tornado car. You can't.
If you submit a personal car, you must use for the whole duration of the online races.
If you have no personal car, you must use either the default Frollin or user-submitted cars that are not in use.
If you want to participate only in the online races with the default car (Frollin), simply let us know on Discord. If you are uncertain whether you can make it to the event, you may still sign up, but please let us know in advance that you might not make it. We need accurate information in order to predict how many lobbies we might need.
If you also want to race with your own car or participate in the beauty contest, you are allowed to make the following changes to Frollin for your creation:
Models (all exisiting PRM files, as well as additional ones for spinners)
Texture (you may also include additional skins)
Carbox
Folder/file names
You may not make changes to the hull (collision) file. You are only allowed to alter the Parameters for the car name, file paths, engine sounds, as well as the addition of spinners and other visual aspects. Unwanted changes to the Parameters will be easily detected, so do not submit any changes that may give you an unfair advantage.
Your car must be submitted on Discord, either publicly in #halloween-carnival-2019 or privately to the organisers (Wichilie or URV). The deadline for your submission is Thursday, October 24 at 18:00 UTC.
Finally, you are allowed to submit a car without racing it yourself. However, while not a requirement, you should consider finding another participant to represent your car in the online races.
| Saturday | Sunday |
| --- | --- |
| 1. Hallows Eve | 1. Halloween 2 |
| 2. Creepy Canyon | 2. Bone Island |
| 3. Return to Goblin Wood | 3. The Catacombs |
| 4. Kadish Sprint | 4. The Felling Yard EXTREME |
| 5. Vampira | 5. Molten Caverns |
| 6. Zombie | 6. Skeleton Rave |
| 7. Forest of Horror | 7. MKDS - Luigi's Mansion |
| 8. SCP: Containment Breach | 8. The Monastery |
| 9. Rooftops | 9. Dead Souls |
| 10. Waterfall | 10. Schizophrenia |
| 11. Miner's End | 11. Hotel Retro |
| 12. The Bunker | 12. Mysterious Toy-Volt Factory 2 |
| 13. The Citadel | 13. Tenebrosity |
| 14. Castle Keepers | 14. Spooky-Volt |
Online Races:
Alex
BloodBTF (Sunday)
Daniel1
Floxit
Frizk
Hajducsekb
HEAV
OhNej
Punk
Radizen
RV_Passion
RV_Pure
Shara
URV
Wichilie
Zeino
Beauty Contest:

Alex (2x)
BloodBTF
Hajducsekb
RV_Passion
RV_Pure
Shara (2x)
Wichilie
Zeino