Halloween Carnival 2020
3 years ago, 18-10-2020
It's been a year and the third act of the Halloween Carnival is about to begin! On the weekend of October 31 and November 1 at 18:00 UTC, we will once again be racing the spookiest tracks Re-Volt has to offer, in decked-out cars made specifically for the occasion.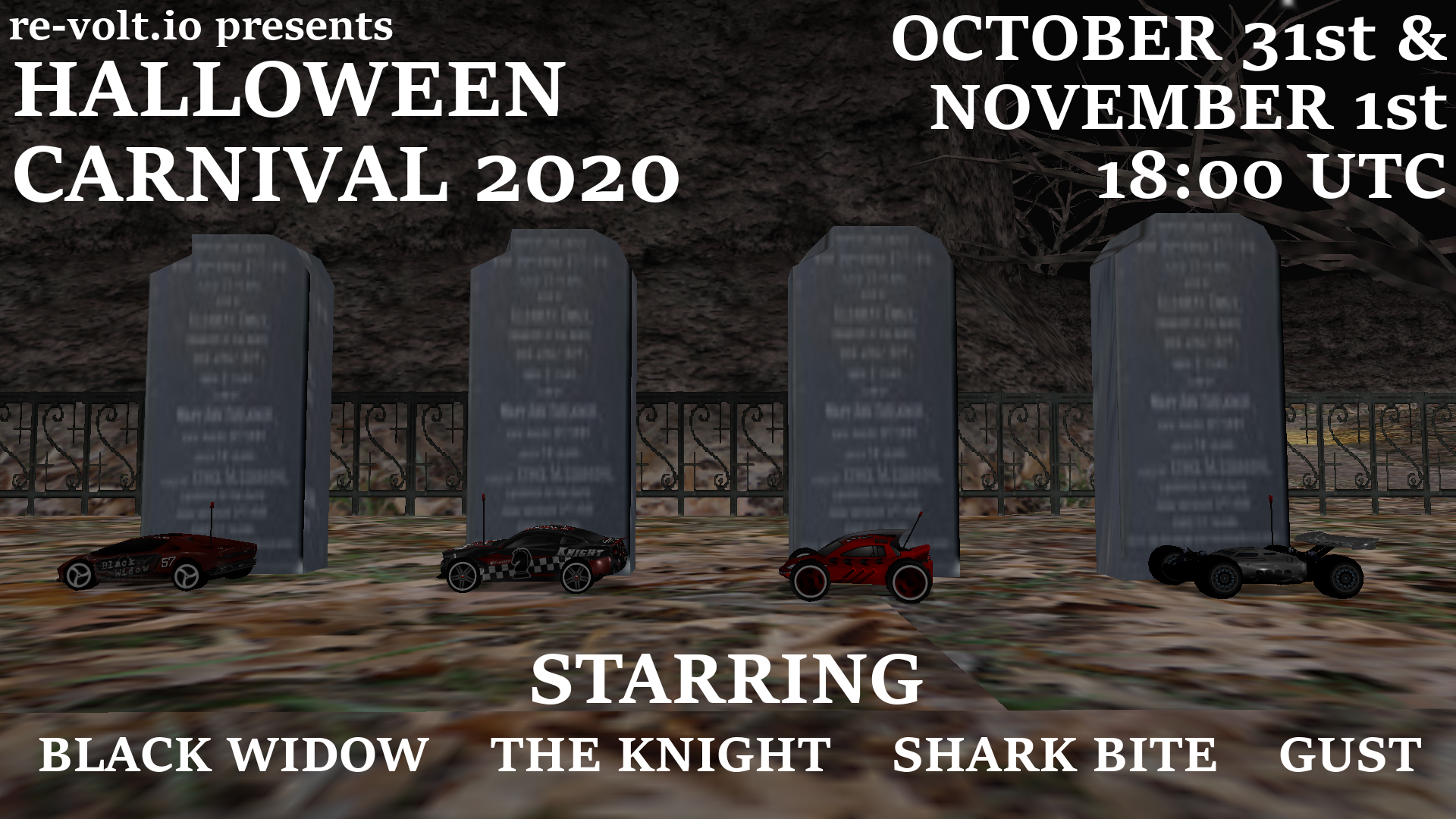 Poster courtesy of Alex. Thanks!

Here's a rundown for those that didn't attend last year, or just forgot the details past "spooky races": The event will be separated into two categories: online races and a beauty contest. This time around we will be using four different cars (Black Widow, The Knight, Shark Bite and Gust) as our base cars, which participants can repaint or remodel in order to have a personal car for the races, and to have a shot at winning the beauty contest. Your creation should have at least some connection to Halloween, of course.
We will be racing with pick-ups enabled on Arcade mode. There are no prizes to win, other than the satisfaction of crushing your opponents in competition. For more details, join us on Discord!
Do not alter any of the cars or tracks: -autokick will be enabled, and you might be unable to participate.
Do not break the game or make it unplayable for others. If in doubt, ask. Unless you're asking whether you can build another tornado car. You can't.
If you submit a personal car, you should use your version over the default one. You are allowed to switch between your personal cars at any time, and are still allowed to drive the default cars that you haven't made a personal car out of.
If you have no personal cars, you must use either the default or user-submitted cars that are not in use (if permission is given by the author).
This year, instead of a single car, the participants will be able to choose between 4 different cars.
If you want to participate only in the online races with the default car, you may not sign up or reserve a spot for the race. However, if any free spots are available on the day of the races, you may still try to join and snatch a spot.
If you want to race with your own car or participate in the beauty contest, you can pick any of the following 4 cars (they are all part of the main I/O car collection):

...and you are allowed to make the following changes to them:

Models (all exisiting PRM files, as well as additional ones for spinners)
Texture (you may also include additional skins)
Carbox
Folder/file names
You may not make changes to the hull (collision) file. You are only allowed to alter the Parameters for the car name, file paths, engine sounds, as well as the addition of spinners and other visual aspects. Unwanted changes to the Parameters will be easily detected, so do not submit any changes that may give you an unfair advantage.
You are allowed to submit a personal car for each of the 4 base cars!
Your car(s) must be submitted on Discord, either publicly in #halloween-carnival or privately to one of the organisers (shara--#7705). The deadline for your submission is Friday, October 30 at 18:00 UTC.
If you are uncertain whether you can make it to the event, you may still sign up, but please let us know in advance that you might not make it. We need accurate information in order to predict how many lobbies we might need.
Finally, you are allowed to submit a car without racing it yourself. However, while not a requirement, you should consider finding another participant to represent your car in the online races.
Day 1
Cycle Road — 4 laps
halloween — 3 laps
Bedlam — 4 laps
Ranch (R) — 3 laps
Fairground 2 (R) — 3 laps
GBA Bowser Castle 3 — 4 laps
Museum EX — 3 laps
School's Out 1 (R) — 4 laps
Miner's End — 3 laps
Lantern Hollow remix — 3 laps
RC Jungle — 3 laps
Rainy Hood — 4 laps
Day 2
HALLOWEEN 2 — 3 laps
Ghost Town 2 Halloween — 4 laps
REAPERS_RELM — 4 laps
Hallows Eve — 3 laps
Spooky-Volt — 4 laps
SNES Ghost Valley 2 — 6 laps
Museum 6 — 3 laps
StadVolt — 4 laps
Scary Caverns — 5 laps
Epimysium — 5 laps
Set The Controls... — 3 laps
Super Nova — 4 laps